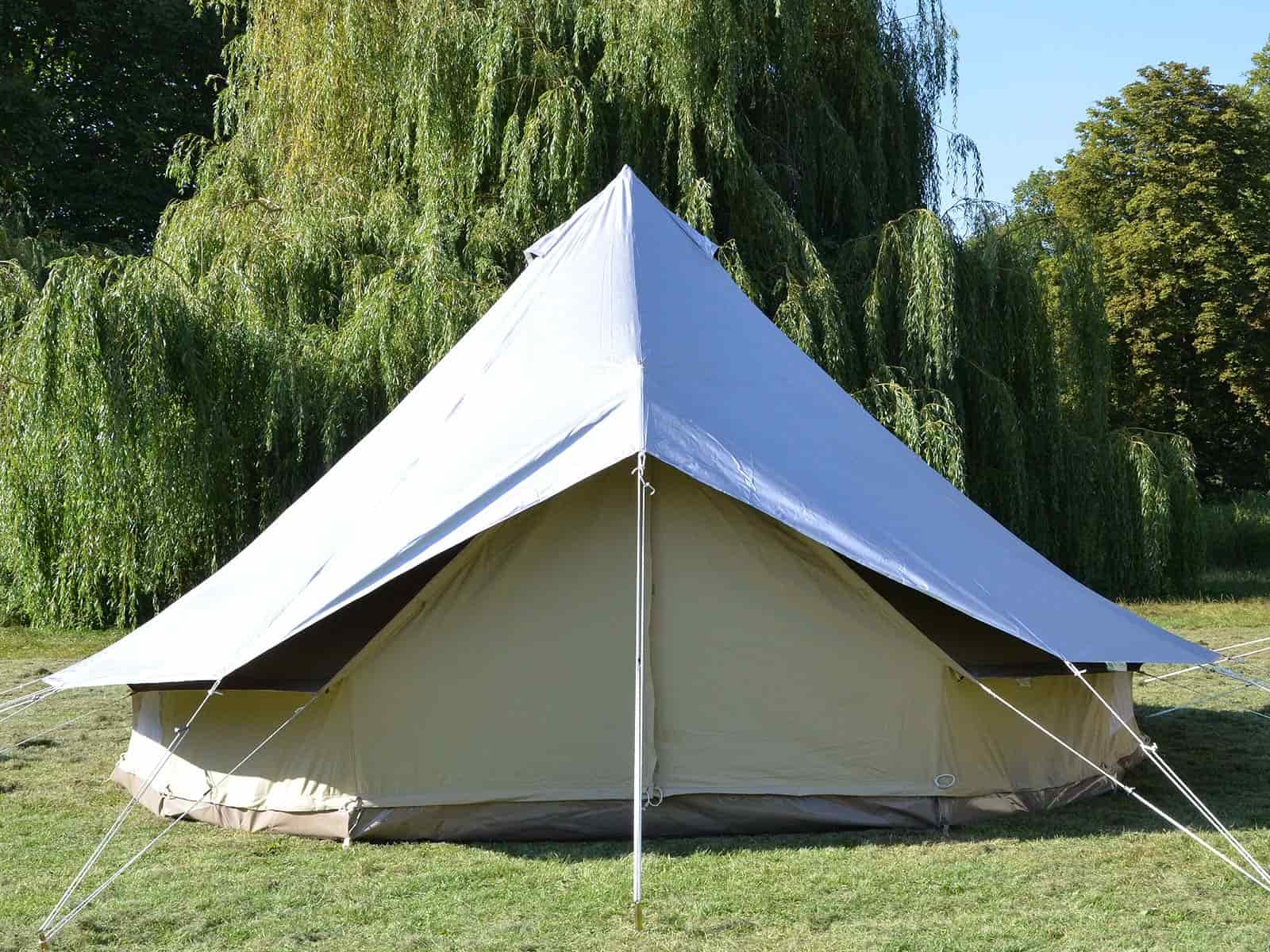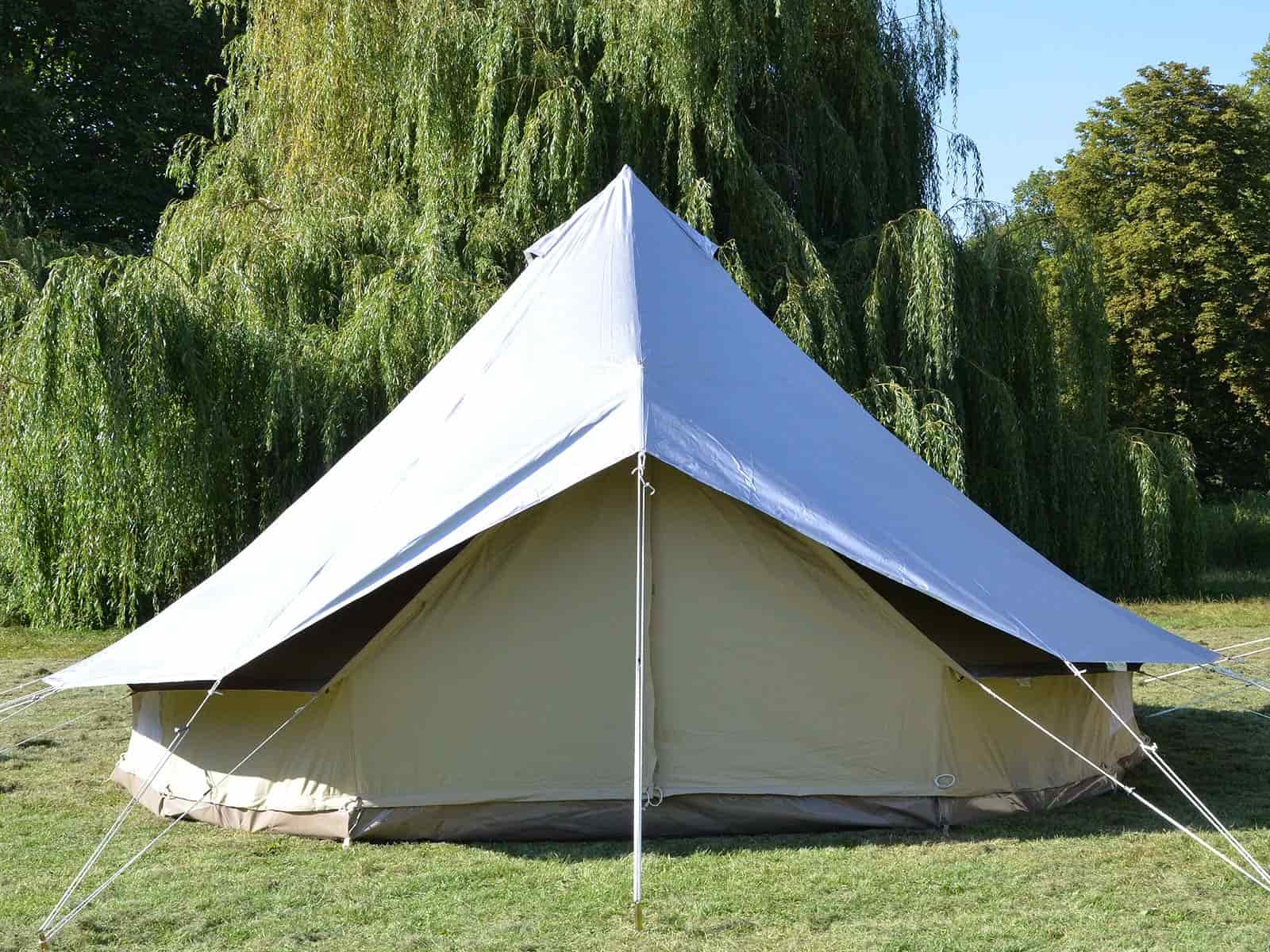 Protector Cover for 4.5m PRO Bell Tent – Silver Blackout
£139.00
Specifically designed for our 4.5m Ultimate PRO MESH Bell Tent
The reflective silver coating keeps the tent cool on a hot day
Blackout material keeps the tent dark in the morning
An added layer of protection against wet weather, debris, and bird droppings
Wipes clean with water and a sponge
Description
Dimensions & Features
This Protector Cover has been designed specifically for our 4.5m Ultimate PRO MESH Bell Tent. Please make sure you buy the correct cover for your tent before ordering.
Unlike all the other sizes of Bell Tents, we supply two versions of the 4.5m Bell Tent, each of which has a different amount of roof panels and, therefore, guy ropes. This cover is for our 4.5m PRO MESH Bell Tent, which has 13 guy ropes. The other version of this cover is for our 4.5 Ultimate Bell Tent, which has 14 guy ropes, meaning the spacing between panels is different.
Turn your bell tent into a silver spaceship with our 4.5m Silver Blackout Protector Bell Tent Cover. This nifty little add-on is perfect for hot summer days, reflecting the sun's heat away and keeping your tent cooler. The silver finish on the outside reflects the sun's heat away on a scorching afternoon and also helps keep the heat in the tent at night. The blackout material blocks out a surprising amount of light meaning no more kids waking up with the dawn...a lie-in under canvas at last! It also looks like a cool aluminium pyramid which will help you easily locate your tent on a busy campsite!
Silver and blackout combination provides double benefits
Made from 115 gsm black polyester oxford material with a reflective silver coating our Silver Blackout Protector Cover offers an extra layer of protection against UV and the heat of the sun, early morning light, rain and dirty marks on the roof of your bell tent. It also provides an extra layer of insulation for the tent at night, helping it stay warm and cosy.
Waterproofed to PU2000mm
PU2000mm is a hydrostatic rating meaning the coating on the protector can hold a column of 2m of water, adding another layer of waterproofing to your Bell Tent. This rating makes it much easier to maintain than a cotton bell tent, as you will never have to reproof the cover.
Quick and easy to install and maintain
Our Silver Blackout Protector Cover for 4.5 metre PRO Bell Tents only takes a few minutes to install and is really easy to do. Just slide the cover over your erected tent and rotate it, so the doors match. Then go around connecting the guy ropes in place using your Bell Tent's guy pegs, or an additional set of pegs, and tension as needed.
These protectors are very easy to clean using just clean, warm water and a sponge, making them much easier to maintain than your bell tent's canvas roof.
Main features of our 4.5m PRO Protector Cover in Silver Blackout:
Lightweight 115gsm blackout polyester oxford with a heat-reflective silver coating
Very waterproof with a rating of PU2000mm
Silver coating reflects UV and the heat of the sun away
Blackout lining keeps the tent dark in the morning
Can be fitted using the tents guy rope pegs or additional pegs
Can be used as a stand-alone shelter with your bell tent poles and pegs
Takes 5 minutes to fit
Protects your canvas
Easy to clean with water and a sponge
Our tents are covered by a twelve-month manufacturer's warranty.
For more detailed information please see the
tent warranty
section of our website.